Grilled Salmon Red Curry

Ingredients


How to cook

1. Blended garlic, basil and sunflower oil to thoroughly combine. Then put the bowl and set aside
2. Stew with Real Thai coconut milk over medium heat I started breaking it with Real Thai Red Curry Paste and stir to combine.
3. Season to taste with Real Thai fish sauce, palm sugar and simmer until boiling. Then put a hold.
4. Sprinkle the salmon fillets, salt and pepper. Remove brush dipped in oil dilate took a tumble. Then paint over the fish fillets
5. Remove the meat to a roasting pan and cook the pieces of Teflon.
6. Remove the fillets on a plate Red Curry Sauce Decorate with basil and red pepper beautiful.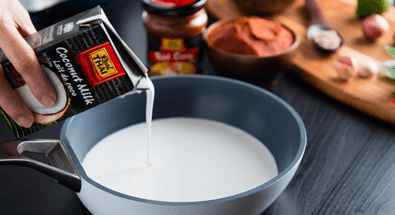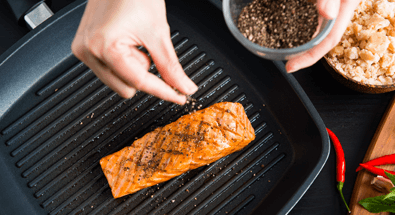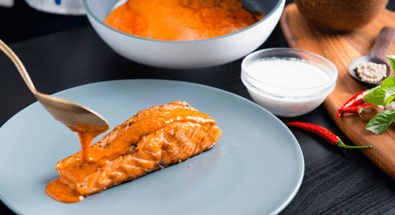 Fried Squid with Black Pepper

Ingredients


How to cook

1. Fry chilli, garlic and oil, follow by the squid and stir until squid almost cooked.
2. Add onions, bell peppers, stir well.
3. Season with Real Thai Black Pepper Sauce, stir well.
4. Cut spring onion and put it down.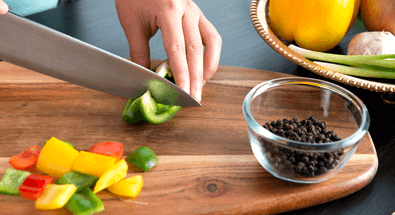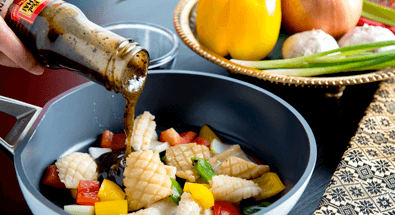 Spicy Sea Food Noodle Soup

Ingredients


How to cook

1. Boil noodles with boiling water not more than 20 seconds. Then bring up and let cold water flow thoroughly. And set aside.
2. Boil shrimp and squid with boiling water until cooked. Then bring up and set aside.
3. Heat the pot. Add Tom yum soup and Coconut milk. (Add coconut milk for more thicken). And added seasoning with fish sauce. Taste and wait until the water boiling again. Gradually add shrimp and squid for about a minute.
4. Before turn off the stove, add parsley and kaffir lime leave. Then add in noodle and ready to serve.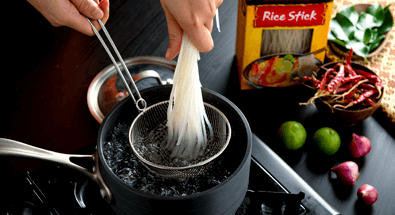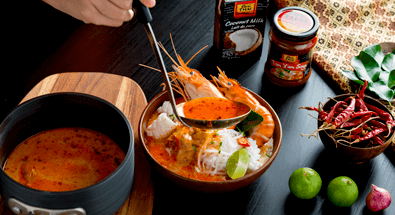 Thai Steamed Curried Salmon

Ingredients


How to cook

1. Make steamed curried salmon by mixing eggs and Real Thai coconut milk, Real Thai red curry Paste, shredded Kaffir lime leaves, shredded Basil, salmon meat, fish sauce, palm sugar together until smooth. Put into microwave and taste.
2. Put steamed curried salmon in a container. Placing salmon and salmon for10 minutes until well cooked.
3. Decorate with Cayenne pepper, Kaffir lime leaves and coconut milk.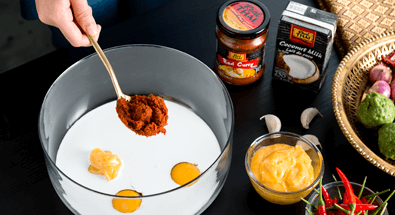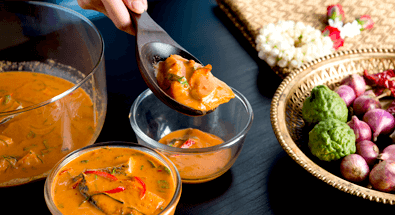 Shrimp Rice Paper rolls

Ingredients


How to cook

1. Sliced carrot, tomato, cucumber, Shredded lettuce leaf, Shredded parsley and boiled and drained shrimp.
2. Put sheet of rice paper in water and remove after only a few seconds, leave it on a towel for one minute to soften.
3. Place the rice paper on a plate and put a lettuce leaf on the center of the rice paper.
4. Arrange carrot, cucumber, tomato, parsley and shrimp on the lettuce leaf.
5. Fold in both sides of the rice paper. Then fold up one-third of the filling. Continue to roll the paper to enclose the entire filling.
6. Serve with rice paper sauce. As desired, add fresh mint leaves and sweet basil leaves or other vegetables.